Both PC's and the Bushtec all fit in the small MC garage to the right. I have remote controlled garage doors , the small one operated from a hidden switch on the bikes, so when We arrive home the bikes can roll right in !!
---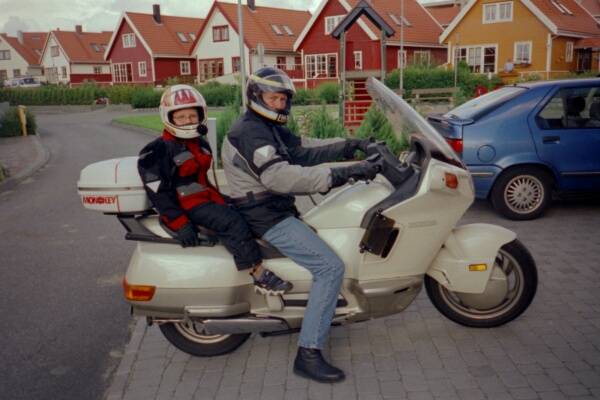 Vidar is ready for his first trip on the PC. He loves to ride MC's and has been on rallies since he was 1 year old. Then we had a threewheeled TRIKING.
This had a 1000cc. Moto Guzzi engine and was really nice to drive. Vidar sat on the propshaft cover and enjoyed life immensly. For more informations on the Triking, visit Triking Cyclecars and the Triking Owners Club page.

---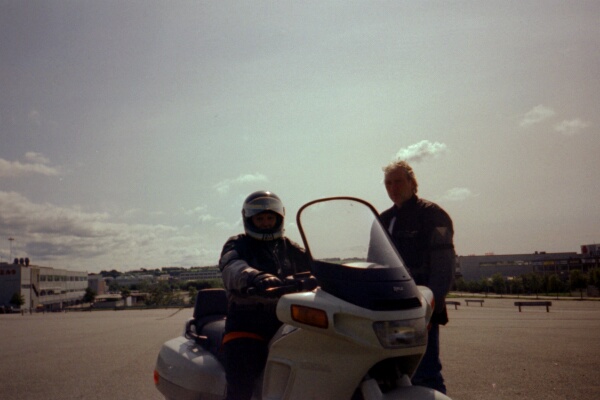 Here we have Torill on her first ride on her PC. We are practicing on a abandoned heliport and do a lot of sharp turning,slow driving and emergency braking here. She has already more than 600km's on the bike and she is progressing all the time. As long as we have CB communication she can learn to drive on the road and is hoping to pass her driving test in spring.
---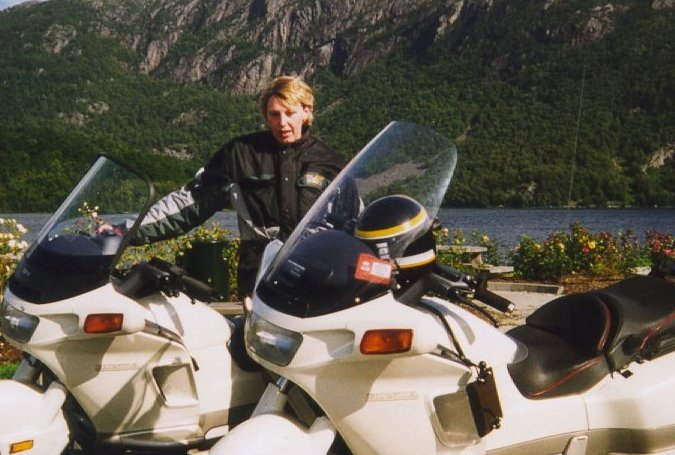 On our first week-end tour.

There are some small differences on the bikes. Torill has a RIFLE fairing with the SAENG edging, the HONDA passenger back rest, Wolfman passenger seatbag and a Fox tankbag. She also use THROTTLE ROCKER, a tough , simple plastic "Cruise Control" suitable for all bikes.

I have the tall HONDA windscreen, BAKER AIR WINGS, CORBIN seat with adjustable lumbar support ( I am getting older !!), GIVI monokey topbox,

TOUR MASTER tankbag and also pull the BUSHTEC trailer when there is not enough luggage room in/on the bikes.

In the trunk we both have HEIN GERICKE inner bags and a CycleComm CB Radio mounted . The CB radio on my PC has also intercom to/from Vidar and input for a walkman/cd player. Both Vidar and myself can call and talk with Torill. We also both use SIGMA CYCLE COMPUTERS to get Km/h clear readings, average speed , a watch and much more.
---
From here You can go to: