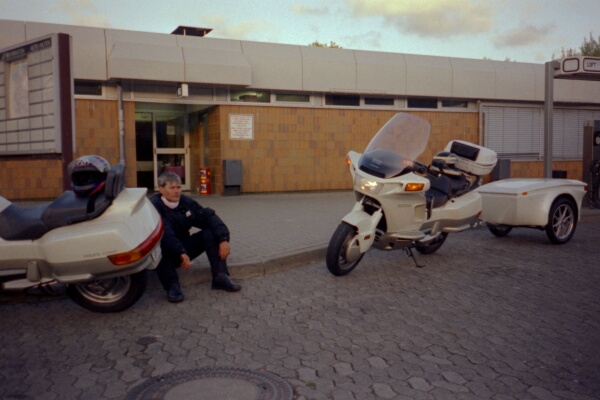 Here You see the 1993 BUSHTEC Turbo trailer mounted on my bike.
There are many reasons to pull a BUSHTEC , but the most important reason is the one you do not see- the suspension. BUSHTEC is the only company to use a true independent air adjustable suspension that will not bounce. Other companies use independent designs, but all use some type of spring or torsion arm as part of that design. Any time you have a spring on a lightweight vehicle, such as a motorcycle cargo trailer, that spring causes the trailer to bounce. This is due to the fact that when you hit a bump, the spring is compressed and stores energy. This energy must be released prior to the spring returning to rest. Due to the vehicles light weight, it does not slow the rebound of the spring and allows it to release that energy rather quickly and somewhat aggressively. This is what causes other trailers to bounce. But due to the fact that BUSHTEC does not use a spring in conjunction with the air suspension, there is no rebound, and subsequently, no bounce.
In addition, BUSHTEC uses a heim joint and positive displacement pin in place of a standard automobile ball coupler. This eliminates the trailers ability to push and pull on the motorcycle, and eliminates the sensation of having a trailer behind you. Further, it allows BUSHTEC to incorporate a 360 degree swivel, which eliminates the binding created with rigid mounted ball couplers in aggressive cornering situations.
Finally, BUSHTEC uses a 3.00x16 motorcycle wheel and tire assembly with a true 6 ply tire. It is the strongest trailer tire used and will deliver in excess of 25,000 miles of tread life. Due to the use of a motorcycle wheel, they are able to mount the bearing directly into the hub of the wheel, eliminating the need for a separate hub assembly. This saves 16 pounds per wheel in unsprung rotational weight, yielding the lowest rolling resistance of any motorcycle cargo trailer. These are all standard features on all four models of BUSHTEC Performance Sport Trailers.
There are many other fine trailer products out there, but none compare to the quality and performance of a BUSHTEC . If you have any other questions regarding the trailer, please contact Me or have a look at BUSHTEC's Homepage.

LATEST: May, 14th 2000 the Bushtec was sold to finance a new one for the USA tour.

Bye-bye Bushtec
---
Here we are in Denmark,20 Km from the ferry port, I had no more fuel and Řyvind found this gas station,he returned to me with 2 liter gasoline,he found me after 1 1/2 hour and we DID NOT catch the ferry!! It was 0130 hours and cold and windy.We should be travelling north to Hirtshals to take another ferry,but we headed SOUTH for 50km's before we found out and turned the bikes the right way.
---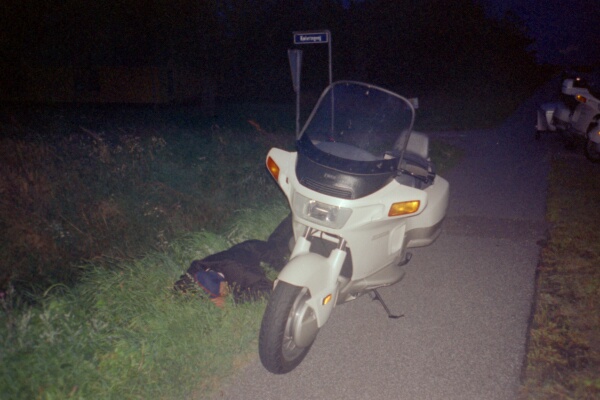 In the early hours Řyvind started to get very tired. We stopped and he took a nap for 10 minutes, slept like a log and was ready for the last 100 km ride to Hirtshals.
---
We arrived safely home! I got the bikes registred on Norwegian plates and here Vidar and myself are washing them for the first time. Ready for new adventures!!
---